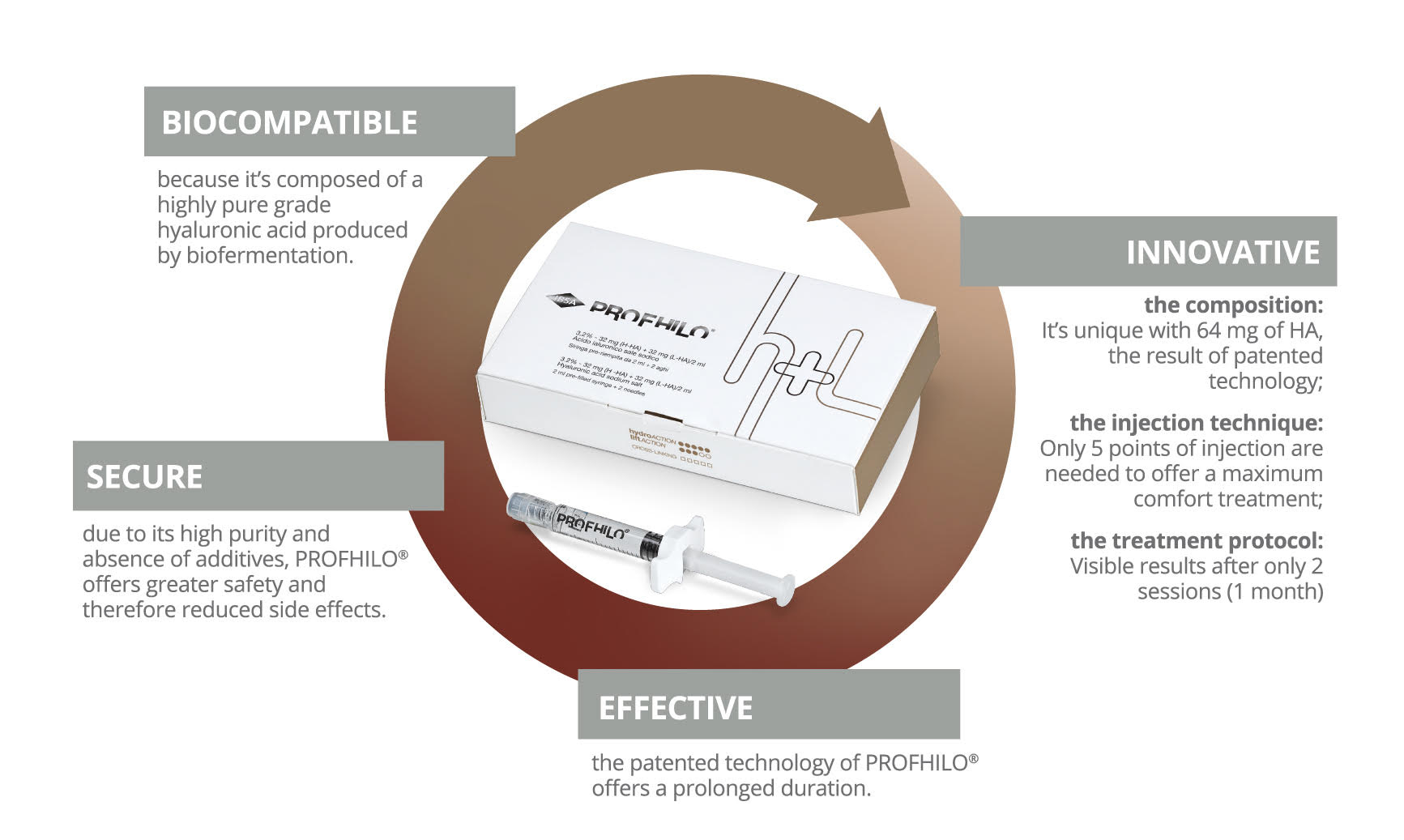 What is Profhilo?
Profhilo is a new unique BDDE-free stabilised high concentrated injectable hyaluronic acid (HA) based product. It is a bioremodelling injectable treatment that works to remodel your skin with visible results after only 2 treatments. The procedure slowly diffuses into the skin and stimulates your own collagen production and elasticity. This new treatment sits between a skin booster and a filler.
Why do I need Profhilo?
Profhilo is suitable for anyone over 18 years of age with issues of skin laxity and is ideal for those suffering with loose, wrinkled and crepey looking skin on the face, neck and arms for example.
It is not suitable for anyone who pregnant, breast feeding or those who have a known hypersensitivity to hyaluronic acid.
Where can it be used?
It can be used on the face, neck, chest and hands.
What can I expect?
After a face to face consultation with Dr Sean Holt, Profhilo is injected using a unique specalised technique called BAP (BIO AESTHETIC POINTS). The BAP technique is 5 entry points of injection for each side of the face. The injections are designed away from the important structures of the face and there are less injections than standard skin boosters, which reduces the risk of bruising and pain.
To achieve the best results you will need usually two treatments spaced a month apart, very occasionally a third may be needed.
And after?
Downtime
There is minimal down time and in most cases you will be able to return to normal activity and work afterwards. There may be some redness or swelling which usually subsides in 48 hours.
The Results
Improved skin tone, texture, elasticity and firmness with increased hydration and radiance. The result is healthier, softer and smoother skin.
The effects of Profhilo last for around 4-6 months after your second treatment.
To maintain the results of Profhilo it is recommended that you have another maintenance treatment every 3 – 9 months.
Generally the older you are, 50+ years, you will need a recommended maintenance treatment every 3 months.
Those luckily enough to be 30 – 40s every 6 – 12 months.
How much does it cost?
One individual 2ml syringe of Profhilo is £300.
You will need 2 treatments (occasionally 3 in older patients or more stubborn areas) spaced around one month apart.
As a general guide:
The face cost £600 (includes 2 treatments one month apart).
The neck and chest cost £600 (includes 2 treatments one month apart).
The hands (both) cost £1200 (includes 2 treatments one month apart). Other areas of the body will depend on how much Profhilo is used at £300 per 1 syringe and a guide will be given to at the consultation.
There is a 15% discount for bookings made before January 2020,
Before and After