Non Surgical Rhinoplasty
What it a non surgical rhinoplasty?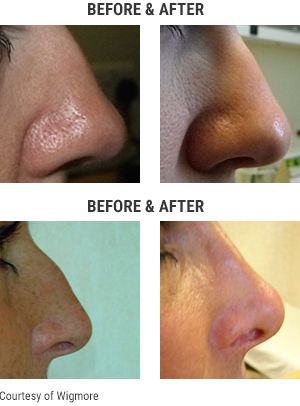 Often described as a non surgical 'nose job', the 15 minute nose job or nose re-shaping. This procedure offers a safe, non invasive alternative to the traditional surgical rhinoplasty. A Rhinoplasty is a extremely desired cosmetic procedure but with many patients not wanting to risk the potential complications of having a surgical procedure, or the large cost involved, this offers an effective affordable alternative for those wishing to re-shape their nose.
Am I suitable for a non surgical rhinoplasty?
If you have any of the following then this procedure may be suitable for you.
Slightly crooked nose
Mild to moderate bumps on the bridge of the nose
A mild to moderate drooping of the nasal tip.
A hook nose that needs straightening.
A nose that is asymmetrical
A nose that requires refinement following a surgical rhinoplasty.
This procedure is not suitable for people looking to make a large nose smaller.
What can I expect?
A topical anaesthetic cream will be applied to the nose for around 20 minutes prior to the treatment to ensure minimal discomfort. Small amounts of dermal filler are then injected around the nose in order to alter its shape and symmetry. This will take approximately 20 minutes. At the end of the procedure you may experience some mild redness or swelling which will subside in a couple of days. Most people find they can continue their day to day activities and return immediately to work.
When will I see results?
The results are visible immediately and last from 6-12 months.
How much does it cost?
Book in for a free consultation to discuss this procedure. Averagely costs are between £300 – £500.
Gallery
Our Procedures
Checks
Minor Surgery